DAILY ZEN
CALM
Tap into your inner Zen with this naturally calming, terpene rich tincture
FEATURES
Sustainably Grown Vermont Hemp
1oz Bottle contains 1500mg of CBD in a fast metabolizing MCT Oil formula.
Rapid Delivery
Sonicated formula to decrease cannabinoid particle size and increase absorption.
Terpene Enriched Formula
Botanically derived terpenes provide wonderful taste and aroma while targeting stress.
Full Spectrum
Contains a full spectrum of cannabinoids.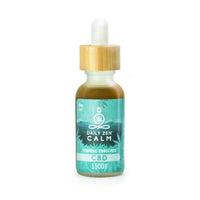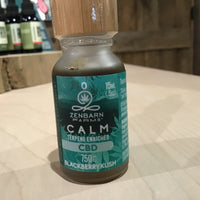 CALM - CBD Oil w/ Blackberry Kush Terpenes
Description
Looking for natural way to de-stress?
Look no further than our Calm CBD Tincture, made using sustainably-grown Vermont hemp and enriched with botanically-derived terpenes targeted to promote a relaxed headspace. Our Calm Tincture will help you take the edge off after a stressful day.  Rich with terpenes such as Limonene, Myrcene, and Pinene, this tincture is both delighting to the senses and fast acting, ensuring quick relaxation. 
INGREDIENTS
(1oz bottle) 1500mg Hemp Extract, Fractionated Coconut Oil (MCT), Botanically Derived Terpenes. Cannabinoids derived from hemp. Origin: Waterbury, VT.
FLAVOR
Herbal, Citrus, Fruity (added flavors come from natural terpenes)
DOSAGE
Shake gently before each use. Take 1 half dropper (.5ml) 2 to 3 times a day or as recommended by your healthcare provider. Each bottle contains 60 .5ml servings.
TERPENE PROFILE
Limonene, Myrcene, Pinene
CBD (cannabidiol) is the second most predominant and recognized of the active chemicals in the cannabis plant. CBD is one of many hundreds of components in cannabis. It does not cause the typical "high" associated with THC (tetrahydrocannabinol). All 50 states have laws legalizing CBD.
CBD may interact with some medications, so it is best to check with a health care provider if you are taking medications. 
CBD is considered a dietary supplement. The FDA does not currently regulate the safety and purity of dietary supplements.